NEU!! Entwickelt SxMDs mit einem strukturierten eQMS, einschließlich auditfähriger SxMD-Vorlagen, die an EU- und US-Standards angepasst sind. Mehr Erfahren!
Medtech lessons from the Trenches: An entrepreneurs journey with Clémentine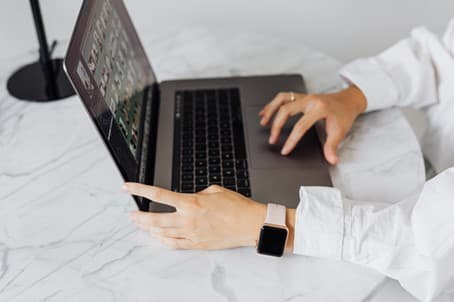 Clementine was always passionate about science in general and began her professional career with fundamental research in an academic setting. While she deeply enjoyed contributing to important quests such as the origin of life research, there was always a desire to transition to applied research.
What could be more fulfilling than participating in the development of new drugs, life-changing medical devices, or making high-quality hospital diagnostics accessible to everyone, everywhere?
Clementine's initial choice led her to co-found a startup in 2019, where she held the position of CSO. She launched Facible Biodiagnostics with the ambition of completely revolutionizing the diagnostic world using a groundbreaking technology called aptamers.
Although aptamers had been known for over 20 years, no commercial In Vitro Diagnostics (IVD) had obtained a 510k clearance yet, and she believed they were up to the challenge.
The roadmap shifted at the onset of the Covid-19 pandemic, as it became evident that the technology could be a game-changer to assist people worldwide. After securing funding, the team was on a promising path to obtaining Emergency Use Authorization (EUA) as a high-complexity lab test. Unfortunately, they lost the race due to viral mutations and an extreme influx of new startups in the market, all developing SARS-CoV-2 detection kits.
Many Lessons Learned
Leveraging the lessons learned, Clementine decided to take a break from entrepreneurship and transition from the forefront to behind the scenes to learn more about requirements management and QMS. This decision led her to join Matrix Requirements, where she quickly grasped how a genuine Application Lifecycle Management (ALM) and QMS were meant to be utilized, and helped her realize that the fate of my company could have been significantly different had she known this sooner.
"The truth is, you can develop the most unique, beautiful and robust chemistry, if you can't show the systems and documents that proves your compliance, your product will never go market".
Having such a tool at your disposal is absolutely crucial. While a full-blown QMS may not be necessary in the early stages of a startup, an ALM can be decisive in shaping your research tool into a robust final product.
What set Matrix Requirements apart was the tangible foundation of their ALM: traceability. The ability to establish rules on how items would be linked, such as between a product requirement and a specification, and the capability to determine which item could be used for risk mitigation, such as product requirements, provided both flexibility and customizability that were simply not available with any other software.
The role as Customer Success Manager allowed Clementine to introduce this exceptional solution to many medical device companies across North America and Australia/New Zealand.
She has been able to build strong relationships with extremely smart individuals who truly benefit from the Matrix software. It empowers them to bring high-quality medical devices to market faster. Indirectly, Clementine says "I also contributed to making these life-changing technologies available to the people who truly needed them."
Want to learn more about Matrix Requirements?
Dive into our latest report on Mastering EU MDR as you start to implement the right quality & regulatory practices for your Medical Device.