NEU!! Entwickelt SxMDs mit einem strukturierten eQMS, einschließlich auditfähriger SxMD-Vorlagen, die an EU- und US-Standards angepasst sind. Mehr Erfahren!
Introducing SxMD Templates package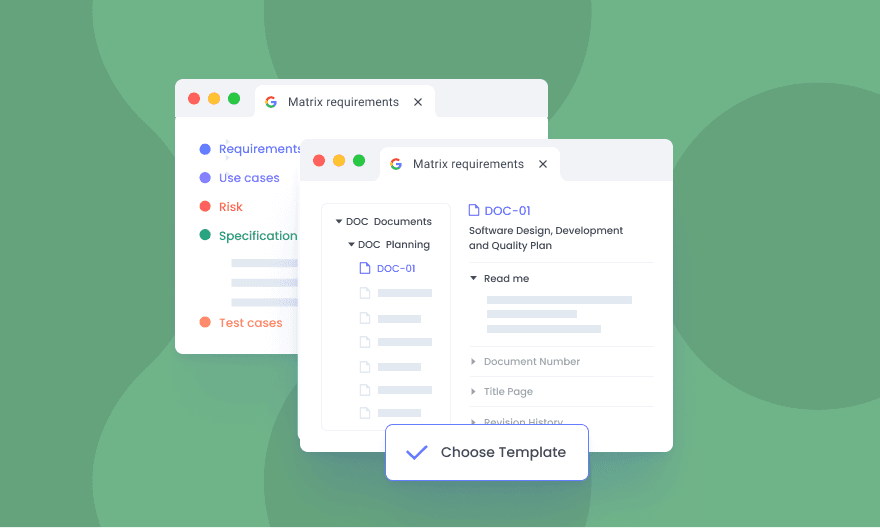 Getting an SxMD project off the ground just got easier
Whether you're entering a new market, transitioning from hardware to software, adding software to a product, or moving to a new eQMS solution, the SxMD Templates package is your intuitive answer to reducing the internal burden on your team when implementing a new system.
The SxMD Templates package is an off-the-shelf structured eQMS complete with everything you need to develop compliantly to EU and US standards including SOPs, work instructions, and document templates which help you comply with ISO 13485, ISO 14155, ISO 14971, 21 CFR 820, IEC 62304, IEC 62366.
Here's how the SxMD Templates can help your team have more time to focus on design, quality, and safety today, so that you can get your products into the hands of people who need them most, even faster: 
Simplified Compliance. Audit-ready flexible templates compliant with EU and US standards. 

Integrated with your Matrix Infrastructure. Dynamically pull data from Matrix into the templates with full traceability to all the standards that govern them. 

Significant Time Savings. Stand up your infrastructure up to 6 months faster using ready-to-go templates. 
The SxMD Templates are available for customers with an active Company or Enterprise that includes MatrixQMS. To learn more, schedule a demo today!