NEU!! Entwickelt SxMDs mit einem strukturierten eQMS, einschließlich auditfähriger SxMD-Vorlagen, die an EU- und US-Standards angepasst sind. Mehr Erfahren!
Agile Compliance at MedFIT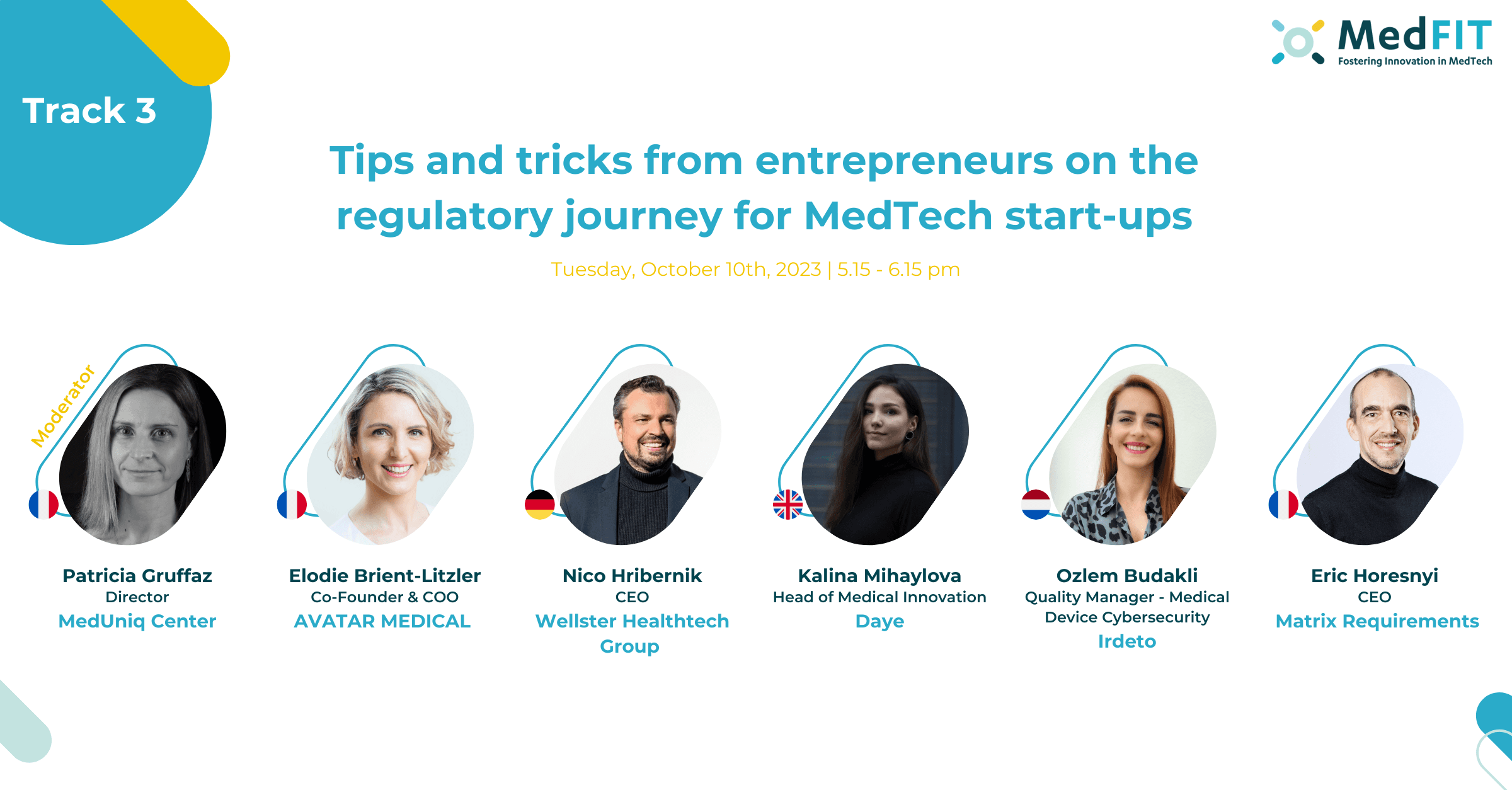 Entrepreneurs and startups within the Medtech and Medical Devices industry are often in the dark when it comes to the regulatory approval process. This article follows a recent panel discussion at the MedFit event 7th edition in Strasbourg, France centered around Medtech innovation and excellence. During the event a panel discussion featuring Patricia Gruffaz, from Meduniq Center, Elodie Brient-Litzler, from Avatar Medical, Kalina Mihayalova, from Daye, Ozlem Budakli, from Irdeto and our very own CEO, Eric Horesnyi, provided key learnings of the regulatory approval processes MedTech entrepreneurs face, how entrepreneurs can prepare themselves & the key steps for startups, from inception, to ensure they save time, costs & resources & get their Medical Device to market faster.
Key steps to follow to make your journey successful
The first phase of your agile compliance is the feasibility study leading to a concept. Then, you need to prove yourself, your team, and potential investors that you have a product worth launching at some point. You then need to iterate fast to reach a feasible product blueprint .
Once you have a concept, you need to plan the next phases, including design control with risk and quality management. The implementation of the right processes related to requirements management, risk assessment and clinical validation are essential. In the initial feasibility & conceptualisation phase, you may not require design control or a QMS, however when a prototype exists the design phase with design controls can start.
"In order to achieve this, avoiding disconnection between engineering and regulatory teams is very important," says Patricia Gruffaz. "In the long term, when you launch your product on the market, the regulatory costs may reach up to 20% of your overall expenses, as a rule of thumb," mentions Elodie Brient-Litzler, so it's very important to have processes in place that are scalable and reduce friction. "Good Design Control early will ensure easy pickup of submission technical documentation later" mentioned Patricia.
Once you are done planning, you get into the design phase, with design control until you have a technical file with a design history file showing full traceability from requirements to specifications, risk analysis, test plans and test runs.
When should you get experts on board?.. and how to source the right ones.
If you're venturing into the world of medical device regulatory affairs without prior experience, it's crucial to navigate the terrain with caution and seek guidance right from the outset. When? The answer is simple: immediately. But where do you begin? Two main avenues can provide you with invaluable insights. 
First, tap into your network. Leverage the expertise of professionals who have been down this path before. Seek the feedback of CEOs from similar companies, ideally with a similar Medical Device, as they can offer invaluable advice and guidance. 

Second, immerse yourself in the world of medtech conferences. These gatherings are a treasure trove of knowledge, allowing you to learn from industry leaders, regulatory experts, and peers. 
Additionally, if your medical device involves a substantial software component, don't forget to explore the realm of SxMD (Software as/in Medical Device) experts. Software within the medical field carries its own unique traits, and connecting with experts in this field can be especially beneficial.
Table below is a checklist to build your project plan to reach success step-by-step by hiring the right people at the right time, while planning ahead resources for the next steps.
How can you implement the right processes in terms of requirement management, risk assessment and clinical validation?
It's essential to make the workload ambitious & achievable. As you move into Requirement & Risk Management in the design phase, cut complexity in pieces and work on small design items. 
"Be risk-first: always document your risks. Start with user requirements, consider and trace specifications (As simple and atomic as possible)...Along the way you will have identified risks,  identify a mitigation specification, and assess risk post-mitigation. Once you have completed the exercise for the entire device, ensure you collect all requirements, specifications, risks, Test case/run and build your technical documentation.This will reduce unnecessary headaches further in your design and regulatory process." - Eric Horesnyi
As you start to delve into Risk management within your procedures, it's important to consider these as you did during your design phase. Consider the procedures that should exist to address regulatory requirements for ISO 13485, 62304, 82304 and 27001. Ideally, you'll trace procedures up to regulatory articles which will allow you to show an auditor that you have covered all the articles.
How can you manage the increased spendings induced by MDR regulation?
How can you manage the increased spending induced by MDR regulation? It's a common question for founders, CEO's and entrepreneurs. Each business is different, and alongside those differences you may have specificities that make it simple to answer this question, such as the Class of your Medical Device, the location of your facilities, teams and resources and your overall strategic plan.
If you're looking to become a global business with market reach across the EU & US, it's important to consider the implications of the different regulations.
"What we've seen first hand is many Medical Device provides considering the US (FDA) first, especially if 510k. The process may be faster, simpler to understand and the guidelines for Medical Devices applying for the FDA approval is usually met within very strict deadlines." - Eric Horesnyi 
It's equally important to automate as much as possible with a tool that is suitable for your business. An ALM and QMS tool like Matrix Requirements can help to ensure you have full traceability and control across your product lifecycle. In the long run, software solutions will cost your business less than the back and forth of time spent by individuals facilitating reviews, signatures, or creating documents.
Additionally, use consultancy to elevate your regulatory skills, but always stay in control of the journey. Leverage a consultant as a guide, and where it's possible, try to use a consultant who has worked on similar projects to reduce their onboarding time and costs.
"Regulatory is inescapable for Medtech businesses, however this does not mean businesses need to suffer with regulatory Requirements. Good practices early, and a constructive approach rather than "check list approach" will help you achieve your key goals in getting your Medical Device to market faster." - Patricia Gruffaz
Navigating Regulatory Challenges for Entrepreneurs in the Medical Device Industry is tough. It's not always clear and may entrepreneurs lose hope with who to turn to.
To what extent can a good regulatory approval management be a strategic advantage for your start-up?
Good Regulatory approval management has the potential to shape the narrative your organization presents to investors. Having agency on your approval management process impacts the 3 metrics that a shareholder will consider vital for the success of your organization: Revenue, Risk, Cost. In focusing on clear & scalable processes toward Regulatory approval, you will accelerate your journey to revenue, which in the early phase of a business is crucial, as cash is life-critical for your startup. 
Additionally, this focus will reduce the risk for any potential investor making a favorable decision, as you have indicated both your mastery of the process, as well as your understanding of how it can impact the business bottom line. 
And finally, this focus will help your business stay efficient and lean in the long term, indicating you're well aware of the cost-saving benefits by implementing this approval management early. 
What is the impact on building your team?
It is critical to build a quality-first risk-first culture. This approach will help you as you scale and will implement Quality in the DNA of the organization. 
This emphasis is important early, as - It may be helpful to consider regulatory training for all as part of your team onboarding with specific monitoring or testing done regularly to ensure your team is continuously upskilled. Additionally, regular training on all your PROCs, which would be documented in a QMS to avoid different team members (RAQA) constantly following up with different team members.
For your RAQA team, it may be helpful to initially hire a part-time consultant, focused on strategic topics in the early phases. As soon as you can, hire 1 RAQA responsible, typically among the first 5-10 employees to help build the DNA of the organization & grow the RAQA team in proportion to your company size.
Ensure your engineering team understands how critical documentation is to then get approval and the overall business impact this has on revenue. If the impact is not clear, it may be simply disregarded as a 'nice to have' and would not help strengthen the relationship with RAQA as they would be constantly chasing data, reviews and signatures. 
The journey is great if your RAQA and Engineering teams work hand in hand and build scalable methods together, so that as their teams grow, it is passed down the reporting line. On the tooling side, your developers would remain with their usual ticket/story tool (typically Jira) as much as possible, however the RAQA manager would ideally be a power user of your design control/quality management tool.
When is it necessary to document?
Once your feasibility study is conclusive, and to avoid slowing iterations, documentation should be implemented in order to avoid a lengthy (6+ months) preparation prior to submission of your application for FDA/MDR certification. 
On the Procedure/Quality side, your records need to exist as soon as you are auditable. Building your quality policy and quality manual early is the best way to ensure you inoculate a quality culture in the company.
Key Takeaways
As you start this journey, or perhaps revisit it, keep in mind the following key tips in order to remain on track and get your Medical Device certified and on market faster:
"Own Regulatory Topic as a Core Strategy: In the end Regulatory may cost your business up to 20% of the company's expenses. It matters and it's essential to make regulatory compliance a central part of your business strategy" - Elodie Brient-Litzler
"Don't get overwhelmed by consultant promises: Stay informed and do your own research. Regulations might feel intimidating, but you can definitely learn to navigate them even without prior experience, so  you do not blindly rely on consultants. Also make sure to choose consultants with relevant experience and work closely with them - it can be a great learning experience for you, as well as more efficient. If you are cost-conscious, consider negotiating a fixed budget on a project basis, to avoid costs spiraling out of control. ." - Kalina Mihayalova

Think Regionally: Explain the value of considering regional regulatory variations when developing your product. Discuss how regional differences can impact your regulatory strategy, and provide insights into how to navigate these complexities. - Elodie Brient-Litzler

"Find a software solution that will scale with your business. Explore how modern tools and platforms like Matrix Requirements can be leveraged to streamline regulatory and quality documentation". - Eric Horesnyi

"Managing regulatory and quality control for a diverse product portfolio can be challenging. It's crucial to have a quality advocate involved in the product development process from the start and plan internal audits to keep your team on track. Reach out to contacts in your network that have been through this process before and can help you as you get your products to market!" - Kalina Mihayalova

"Start with Your Quality Early On. Emphasize the importance of early quality planning. Convince your technical team through  real-life examples (and even more impactful: former mistakes made at your company!) showing howdelaying quality considerations can lead to increased difficulties down the road" - Elodie Brient-Litzler

And finally…"Hire well. Find the right people who want to help you grow, have the right skills and look after them. Cherish those team members who help you build a strong Regulatory Team and Process" - Eric Horesnyi

In the early phases of your Medtech startup, being smart and proactive in your Regulatory decisions will help your business scale. Don't underestimate the value of a strong team and valuable insights, leverage the key data so you can enjoy the regulatory process and develop safer Medical Devices.