Learn more here about our new look and feel, and how we're putting customers at the heart of Matrix Requirements
Invenio Imaging brings near-real-time histology insights to the operating room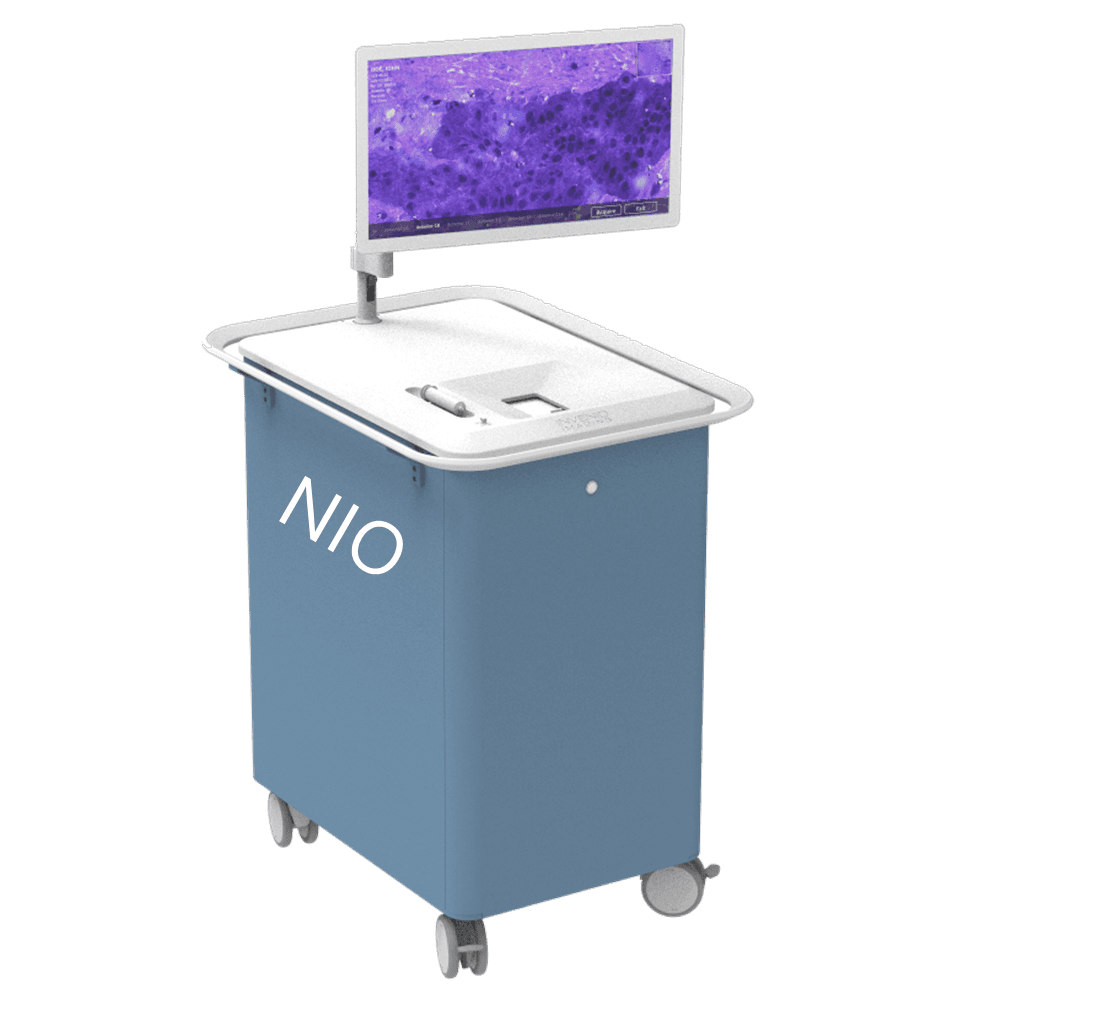 MedTech start-up cuts through requirements management complexity and streamlines regulatory compliance for its breakthrough imaging solution.
Challenge
To bring its innovative histopathology solution to market, Invenio Imaging looked for an efficient way to track interconnected requirements, specifications, test cases and risks.
Solution
Invenio Imaging replaced time-consuming spreadsheet-based processes with MatrixALM, enabling it to manage many-to-many relationships effectively across hundreds of design objects.
Results
250+
requirements managed in a single platform
30+
documents changed at any moment
Innovation
facilitated with fast updates to product documentation
Device type:
Imaging, lasers and AI
Device class:
Class I exempt
Medical Specialty
Surgery, pulmonology and pathology
Solution components:
Matrix ALM
Bringing breakthrough technology to the OR
Through the microscopic examination of tissue samples—a discipline known as histology—pathologists provide oncologists with vital insights. For example, during surgical procedures, histology can be used to verify that the surgeon is leaving adequate tissue margins around the site of a tumor.
Traditional frozen sectioning histology is a time-consuming process. Samples are physically transported to the hospital's laboratory and handed off between multiple teams for preparation and analysis. Even a well-optimized pathology lab can take up to 30 minutes to return results to the operating room (OR).
California-based start-up Invenio Imaging is on a mission to change that. Through the use of breakthrough spectroscopic technology, the company enables surgeons to get accurate histologic evaluations in just three minutes.
Chris Freudiger, Co-Founder and CIO at Invenio Imaging, explains: "With the NIO Laser Imaging System, we empower surgeons and pathologists to image fresh tissue samples directly in the OR, without the need for processing, sectioning or staining. The aim is to enable surgeons to make accurate, well-informed decisions faster, ultimately contributing to improved patient outcomes."
Freudiger adds: "Looking further ahead, the opportunity is to augment the NIO solution with AI-powered decision support—enabling physicians to gain the insights they need without waiting on pathology. For example, we've recently begun an exciting research collaboration with the Lung Cancer Initiative at Johnson & Johnson to develop and validate a lung cancer detection algorithm to assist physicians with evaluating lung biopsies."
Meeting international regulatory requirements
As it prepared to bring the first version of its NIO Laser Imaging System to market in Europe and the USA, Invenio Imaging knew it would be crucial to demonstrate compliance with a wide range of regulatory requirements throughout the development process and beyond.
"We had to show our regulators that we developed the NIO solution in line with requirements from the FDA in the United States and the In Vitro Diagnostic Regulation [IVDR] in Europe," continues Freudiger. "Risk management is essential, and we also needed an effective process for continuously evaluating, reporting on and mitigating potential hazards."
Cutting through complexity
At the start of its product development journey, Invenio Imaging relied on manual, spreadsheet-based processes to track requirements, specifications, test cases and risks. However, managing the dependencies between more than 250 requirements was a complex and time-consuming task.
"Spreadsheets weren't a good way to handle the complex relationships between the many objects that comprise our solution," confirms Freudiger. "We looked for an easier way to manage the relationships between requirements and other objects. At the same time, we wanted to make it easier to demonstrate regulatory compliance by creating a clear audit trail throughout the lifecycle."
Adopting a streamlined approach
To help achieve its goals, Invenio Imaging switched from its manual, spreadsheet-driven approach to a highly automated and streamlined application lifecycle management solution: MatrixALM.
"We'd already heard positive things about MatrixALM from industry peers," says Freudiger. "As soon as we started exploring its capabilities, we realized why people speak so highly of it. In particular, we were very impressed with MatrixALM's ability to handle many-to-many relationships. It's extremely difficult to map three user needs to five product requirements in a spreadsheet, but the Matrix Requirements solution makes this complexity transparent to the end user."
Enhancing operational efficiency
Working with expert support and guidance from Matrix Requirements, Invenio Imaging fully implemented MatrixALM into its product development process. The Matrix Requirements solution abstracts the complexity of many-to-many relationships between hundreds of design objects, allowing the company to focus on designing solutions that address user needs and regulatory requirements.
"With the previous approach, we had to hold relationships between objects in our minds, because there wasn't a practical way of representing that information in a spreadsheet," recalls Freudiger. "As a consequence, if we hadn't worked on a particular development topic for a while, it took a long time to get back up to speed. We also struggled to hand over tasks to other teams internally because knowledge transfer was so difficult.
"With MatrixALM, we can now easily visualize how all design objects fit together at a high level, and drill down into individual requirements without losing sight of the bigger picture. It's an extremely efficient way of working."
Securing regulatory approval
By deploying MatrixALM early in its product development process, Invenio Imaging has streamlined its journey to regulatory approval. The company's NIO Laser Imaging System has been reviewed and approved for use as an imaging modality by the FDA, and the solution is CE marked and registered under the IVDR within Europe.
"For the last 3 years, MatrixALM has been a key enabler of our day-to-day work," elaborates Freudiger. "We use the solution to assign tasks to our team and get an overview of outstanding actions. We also frequently refer to data in MatrixALM during meetings and reviews.
"Crucially, we can generate accurate and complete documentation in the formats our regulators need, showing all the requirements, specifications, risks and test cases. There's no doubt in my mind: we couldn't have achieved regulatory approval without a solution like MatrixALM."
Enabling continuous innovation
As Invenio Imaging continues to develop its solution and explore new capabilities such as AI decision support, the company is leveraging MatrixALM to ensure that compliance is never a barrier to innovation.
"Whenever we make a change to NIO—for example, in response to a feature request from a client or an issue we've identified—we also need to update our documentation to reflect that change," says Freudiger.
Depending on the type of change and the system and its dependencies, the team might need to update as many as 30 different documents. With spreadsheets, handling these changes was extremely time-consuming, making smaller product improvements prohibitively costly.
With the Matrix solution, it's a different story. "Thanks to MatrixALM, it's easy to generate new documentation when we update our devices," says Freudiger. "These efficiencies give us a bigger appetite for innovation, opening up a world of product enhancement opportunities."
Planning for the future
Today, Invenio Imaging uses MatrixALM as its single source of truth for requirements management and Jira as its system of record for operations and customer support. In the future, the company plans to explore native API integration between MatrixALM and Jira—enabling closer collaboration between its engineers and customer support teams.
"Every medical device company wants the regulatory approval process to be as smooth as possible, and requirements management in MatrixALM has helped Invenio Imaging achieve that outcome," concludes Freudiger. "I'd strongly recommend that any medical device start-up use MatrixALM from day one. The Matrix Requirements team is super helpful and responsive, and their solution is a powerful way to keep complex medical device projects moving forward."

Every medical device company wants the regulatory approval process to be as smooth as possible, and requirements management in MatrixALM has helped Invenio Imaging achieve that outcome."
Chris Freudiger, Co-Founder and CIO
Sign up to our newsletter
Keep up with the latest Medical Device & SxMD insights from Matrix Requirements.