Learn more here about our new look and feel, and how we're putting customers at the heart of Matrix Requirements
Spirotronic gets clients on the fast track to regulatory approval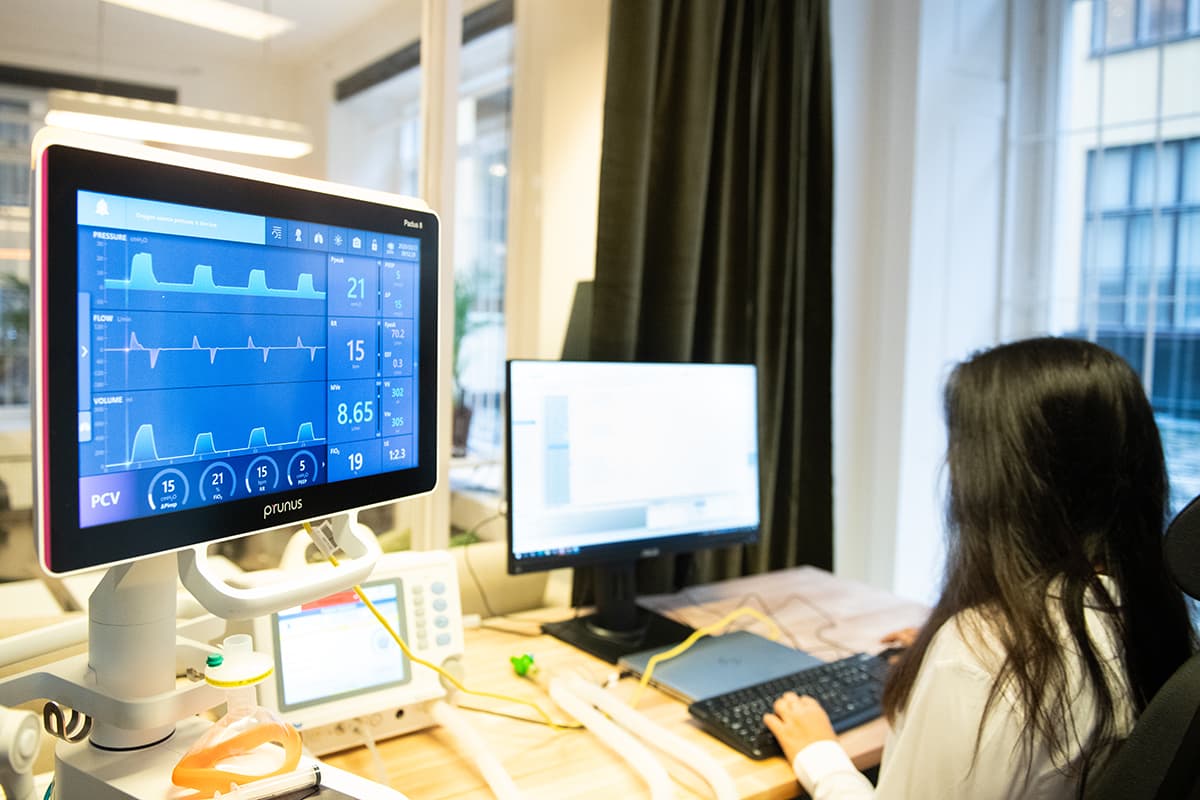 Medical device consultancy helps businesses accelerate their development processes with automated requirements management from MatrixALM.
Challenge
To help accelerate the development of innovative medical devices, Spirotronic first looked for a way to manage hundreds of requirements for multiple projects.
Solution
Software, electrical and mechanical engineering specialists across Spirotronic use automation from MatrixALM to streamline requirements management processes from end to end.
Results
1 day
to go live with the MatrixALM solution
1 FTE
saved on solution management and maintenance activities
Enhances
operational efficiency compared with manual requirements management
Device type:
Medical equipment, Software
Medical Speciality
Anesthesiology
Solution Components
MatrixALM
Driving medical innovation
Spirotronic is dedicated to solving the most challenging problems in respiratory medicine and anesthesiology, helping to accelerate the development of innovative medical devices.
Erik Cardelius, CEO at Spirotronic, explains: "Whether it's upgrading an existing device or designing an entirely new product from the ground up, we help our clients to achieve their goals, and tailor our offering to each client's needs, from ideation to finished product."
Searching for an efficient approach
To move quickly from generating concepts to finalizing designs, Spirotronic recognized that effective requirements management would be an essential capability.
"When we founded Spirotronic, we knew that we would soon be managing complex development projects for multiple clients in parallel," says Cardelius. "Because each project would potentially contain hundreds of interconnected requirements, specifications and test cases, it was clear from the outset that managing the dependencies manually was not a practical option
for Spirotronic."
Thomas Gustafsson, Senior Consultant at Spirotronic, continues: "To help our clients maintain a fast pace
of development while staying on top of regulatory requirements such as the European Union Medical Device Regulation [MDR], we targeted an automated approach
to requirements management. We wanted a solution that we could start using quickly and that could scale up with minimal IT management overhead."
Enabling end-to-end automation
After reviewing several solutions, Spirotronic chose MatrixALM to support its requirements management process. A lean, agile platform, MatrixALM offers medical device manufacturers comprehensive traceability of all design objects, with integrated risk management and fine-grained reporting capabilities.
Gustafsson says: "Our multidisciplinary team includes a wide range of specialists, including software, electrical and mechanical engineers—and we were looking for a solution that all our users could start using with minimal or no training from day one. In addition, because we are a lean organization, we wanted to find a solution with minimal or zero management and maintenance workload. MatrixALM addressed all our key criteria perfectly."
Achieving a rapid deployment
Following a successful proof of concept, Spirotronic chose to deploy MatrixALM. "During the evaluation process, I tried out all the potential solutions without reading their manuals for a true test of their user-friendliness," recalls Gustafsson.
"From the moment I started, it was clear that MatrixALM has been designed by experts in the medical device development field. The solution is extremely intuitive—we rolled it out to our team and were using it in production in less than a day."
Working at speed and scale
Leveraging pre-built standards and development best practices in MatrixALM, Spirotronic can empower its clients to rapidly capture and effectively manage requirements across all their development projects. The solution includes the core ISO and IEC standards for developing medical devices that comply with regulations such as the MDR, enabling Spirotronic to hit the ground running.
Cardelius elaborates: "When we start working with a new client, our first step is to create a new project in MatrixALM and populate it with all their device and user requirements. By linking these with risks and test cases, we can automatically build comprehensive traceability matrices. Without an automated solution like MatrixALM, it simply wouldn't be practical for us to visualize the complex dependencies between all the objects in our clients' devices—but thanks to Matrix Requirements solution, we can deliver fine-grained risk analyses with ease."
Promoting greater collaboration
Today, 10 employees across Spirotronic use MatrixALM to drive their day-to-day work. The company also enables its clients to log into the solution to perform design reviews and collaborate on development activities, streamlining the process and ensuring clear visibility of outstanding tests and potential non-conformities.
"As a company, Matrix Requirements is a pleasure to work with," adds Cardelius. "Whenever we have a question, we know the answer we need is only a call or an email away. We also greatly appreciate the flexibility of the MatrixALM licensing model. We can dynamically reassign our licenses depending on which members of our team are actively working with the solution, which helps us to keep our operational costs lean."
Unlocking valuable efficiencies
By placing MatrixALM at the heart of its requirements management process, Spirotronic can fully devote its attention to helping clients develop next-generation anesthesiology and respiratory medicine solutions. The company is currently working with four clients in parallel, using the Matrix Requirements solution to reduce the complexity of managing many requirements.
"With MatrixALM, we are unlocking valuable efficiencies across our day-to-day operations," says Gustafsson. "We can capture all reviews and tests directly in the solution, and our users can generate complete and accurate documentation for each project at the touch of a button. Compared to a manual approach, MatrixALM offers us five-times greater speed and agility overall, which plays an important role in helping our clients to fast-track their development projects."
A user-friendly and easy-to-manage solution, MatrixALM requires minimal administration input—allowing the company to focus on client services. Cardelius confirms: "Unlike some of the tools we considered, MatrixALM doesn't require a dedicated administrator for solution management and maintenance, which in effect saves us one full-time equivalent."
Taking the next step
Looking ahead, Spirotronic plans not only to deliver expert consulting for other companies, but also to leverage its in-house expertise to develop its own ventilator and anesthesia solutions. To support this work, the company will explore MatrixQMS—an agile quality management system that is fully integrated with the MatrixALM platform.
"Matrix ALM gives our clients great confidence that we have robust capabilities in place that allow them to work in a fast, highly controlled and compliant way," says Gustafsson. "With MatrixALM, we get a full audit trail of every action taken, which will in turn help us to demonstrate our clients' compliance during the regulatory approval process. In the future, we see that MatrixQMS will be a key enabler for developing and validating our own devices."
Cardelius concludes: "MatrixALM enables us to work quickly and effectively across multiple development projects at the same time. When our clients are ready to submit their devices for regulatory approval, we'll definitely recommend that they use MatrixALM to manage their new products."
MatrixALM enables us to work quickly and effectively across multiple development projects at the same time."
Erik Cardelius, CEO, Spirotronic

Sign up to our newsletter
Keep up with the latest Medical Device & SxMD insights from Matrix Requirements.