Learn more here about our new look and feel, and how we're putting customers at the heart of Matrix Requirements
Limbus AI cuts time to market for innovative deep-learning solution for CT contour delineation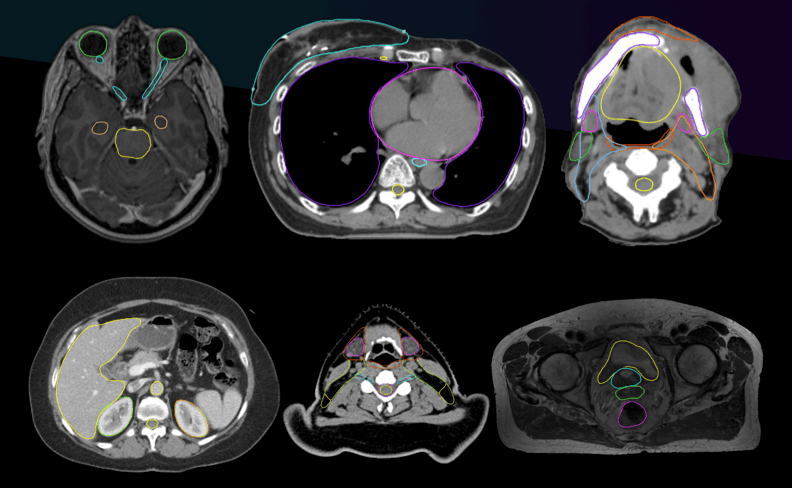 Innovative radiation therapy specialist brings forward regulatory approval with requirements management automation from MatrixALM.
Challenge
To move quickly from concept to regulatory approval, Limbus AI wanted to enable its lean team to focus on product development without impacting compliance activities.
Solution
Limbus AI integrated MatrixALM into its development process, enabling it to manage specifications, tests, risks and more, helping to accelerate regulatory approval.
Results
80% faster
generation of technical documentation
2 weeks to go live
including full traceability of open-source software
6-month reduction
in regulatory approval timeline
Medical Specialty:
Radiology
Solutions Components:
MatrixALM
Cutting lead times for radiation therapy
To deliver effective radiation therapies for cancer patients, physicians rely on CT scans to identify the location of tumors and target them precisely. Treatment starts with contouring, which delineates the boundaries between organs and cancerous tissues on CT scans.
Traditional manual methods of creating CT scan contours are often time-consuming, stretching the resources of cancer clinics and reducing the number of patients they can treat each year. To solve this challenge, medtech startup Limbus AI has developed Limbus Contour, a clinically validated software-as-a-medical-device (SaMD) solution.
Jon Giambattista, Director – Medical at Limbus AI, explains the benefits: "Limbus Contour is the only automated contouring solution that can run entirely on standard clinical workstations, eliminating the need for costly graphics processing units. Our solution helps physicians cut the time to create a contour by up to 80% compared with manual methods."
Addressing global regulatory requirements
Limbus AI knew that its solution could help to significantly reduce bottlenecks in the treatment planning process, with the potential to improve outcomes for thousands of patients. But to bring its solution to market, the company first needed to demonstrate its compliance with stringent regulations set by regulators in Canada, the USA and Europe.
"Our device has more than 1,400 design objects in total, including over 300 requirements and the associated specifications, tests and risks," explains Giambattista. "As a lean startup, we realized that we did not have enough resources to manage the complex interrelationships between all these objects. Instead, we looked for a solution that would allow us to build and update our traceability matrix automatically. The aim was to allow our team to focus on development activities while at the same time ensuring compliance with regulatory requirements."
Finding the optimal solution
After a thorough solution evaluation process, Limbus AI selected MatrixALM as its requirement management platform. Designed by medical experts, the solution enables medical device manufacturers to track the connections between specifications, tests, risks, and other design objects.
"We considered possible solutions against a set of core selection criteria, and MatrixALM was the stand-out winner," says Giambattista. "The Matrix Requirements solution offered all the capabilities we were looking for, including compliance with the ISO 14971 risk management standard straight out of the box. After we saw how easy it was to create a traceability matrix using a demo version of MatrixALM, we quickly realized that the solution was the ideal fit for our needs."
Gaining actionable insights
With support from Matrix Requirements, Limbus AI integrated MatrixALM into its development process. As a first step, the company created a custom traceability matrix, allowing it to keep tight control over all in-house and third-party software components in its Limbus Contour solution.
"Being able to customize our traceability matrix was very important for Limbus AI, because there are strict rules governing how open-source software may be used in SaMD solutions," explains Giambattista. "With MatrixALM, we can easily visualize and report on how open-source software is deployed throughout Limbus Contour, including key metadata on which version we are running. This information is very valuable, as it allows us to demonstrate our compliance to regulators."
Giambattista adds: "Getting started with MatrixALM was simple; the solution is very well-designed and easy to use. By building on project templates provided by Matrix Requirements, we were able to get up and running within just a couple of weeks."
Streamlining requirements management
Using MatrixALM, Limbus AI eliminates the need for time-consuming requirements management work. The company performs all documents reviews and approvals directly in the solution, and leverages automation to generate technical and design history files rapidly and accurately.
Giambattista confirms: "We were very fortunate that we started using MatrixALM early on in our development process—it's undoubtedly saved us a great deal of time. We can now manage thousands of design objects extremely efficiently. Today, our developers, engineers and quality and regulatory affairs teams rely on the solution to help streamline and document their activities."
Securing regulatory approval
With MatrixALM supporting its requirements management process, Limbus AI has secured approval from regulators around the world, including the U.S. Food and Drug Administration and the European Union. Today, more than 100 clinics across Europe and North America use Limbus Contour to automatically process over 160,000 CT scans every year,helping to deliver life-saving radiation therapies to more patients.
"Without question, MatrixALM helped massively with the approval process for Limbus Contour," says Giambattista. "Using the Matrix Requirements solution, we were able to export complete design controls and traceability analyses required by standards such as IEC 62304 and 82304. Today, 90% of our technical file is managed in the Matrix Requirements solution, and we can generate new versions of our technical documentation at the touch of a button, at least 80% faster than a manual process."
Cutting time to market
By leveraging MatrixALM, Limbus AI is confident that it was able to bring its solution to market significantly faster—a key advantage for a young medtech company. Giambattista states: "For startups, the sooner you can get to market, the better chance of success you have. With automation from MatrixALM, we shortened our regulatory timeline by six months, while at the same time reducing our human resources requirements by two full-time equivalents."
Using the Matrix Requirements solution, Limbus AI continues to develop and enhance Limbus Contour, with a single platform to manage and validate requirements.
"As a medtech software company, one of the most valuable capabilities of MatrixALM is the ability to track test results and trace them back to requirements, specifications, and user needs," explains Giambattista. "Today, we run approximately 250 tests for each release, and the solution is a huge time-saver for our quality assurance and testing teams. It's very easy to troubleshoot the root causes of failed tests, which helps accelerate our verification and validation processes."
Unlocking new efficiencies
In the future, Limbus AI plans to build on its success with automated requirements management to unlock additional efficiencies. By taking advantage of branching and merging capabilities in MatrixALM, the company is confident that it will improve the traceability of new versions of Limbus Contour. Limbus AI also plans to explore the use of Matrix Requirements APIs to enable automated integrations with its Jira issue tracking solution and GitHub source control platform.
"MatrixALM is an extremely effective way to develop and maintain a medical device design history and technical file, and we can document everything and generate the outputs we need very easily," concludes Giambattista. "I definitely recommend Matrix Requirements; their support is responsive and high quality, and MatrixALM gives us an excellent understanding of all the design objects in our device. Together, we're helping clinics around the world to accelerate their services and deliver care to more patients."
With automation from MatrixALM, we shortened our regulatory timeline by six months while at the same time reducing our human resources requirements by two full-time equivalents."
Jon Giambattista, Director – Medical, Limbus AI
Sign up to our newsletter
Keep up with the latest Medical Device & SxMD insights from Matrix Requirements.