Learn more here about our new look and feel, and how we're putting customers at the heart of Matrix Requirements
AcuSurgical transform to prepares surgery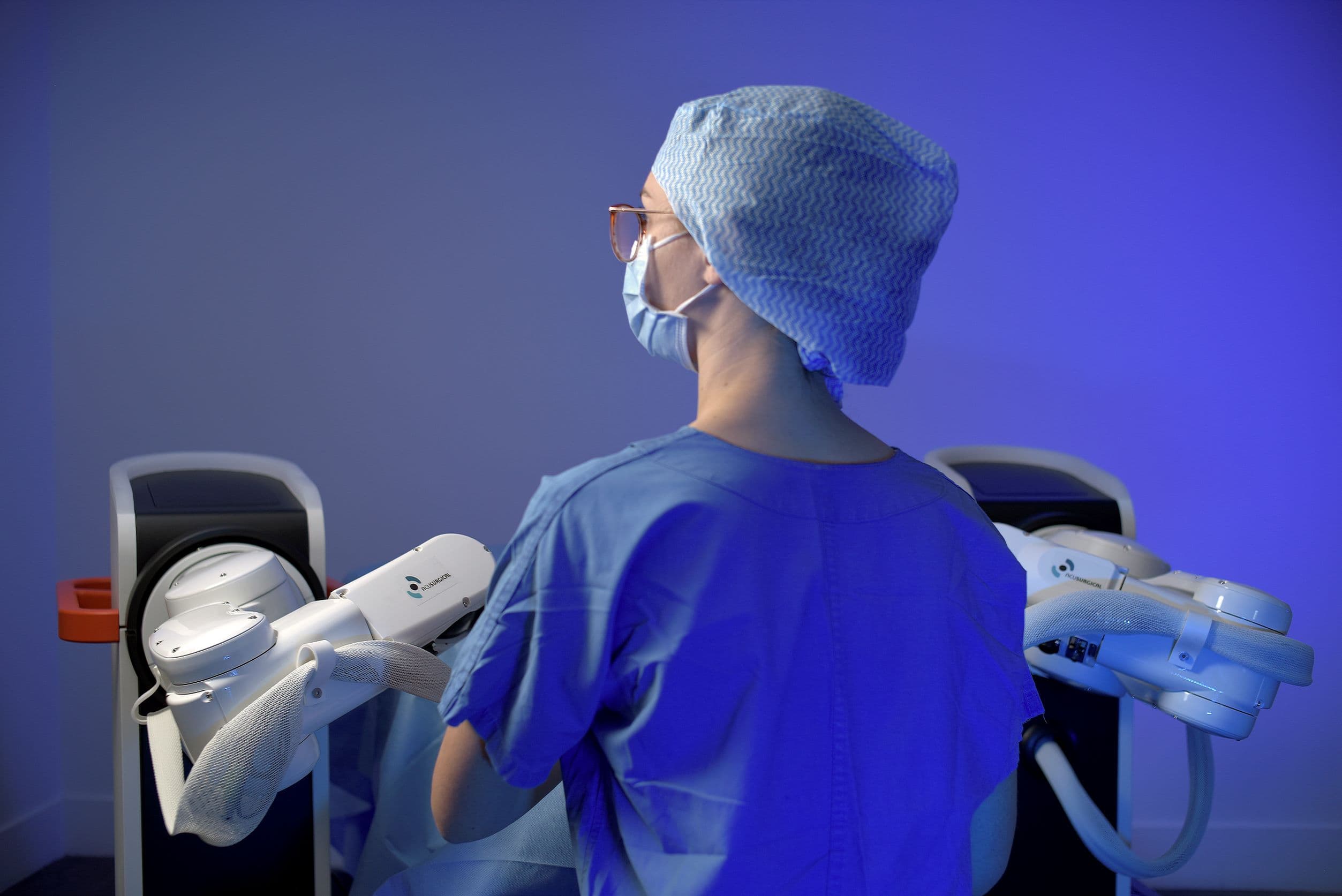 Start-up uses digital ALM and QMS to accelerate development of a robotics solution for ultra-precise procedures.
Challenge
To speed up its product development and certification process, AcuSurgical looked for an efficient approach to application lifecycle management and quality management.
Solution
AcuSurgical deployed MatrixALM and MatrixQMS, enabling it to establish compliant procedures and ensure full traceability of dependencies and changes across software and hardware components.
Results
50% increase
in operational efficiency through digital process automation.
Easy integration
with third party platforms such as Jira and Confluence.
Interactive tests
help verify employees' knowledge and competence.
Device Type:
Medical equipment, Software
Soluntion components:
MatrixALM, MatrixQMS
Revolutionizing retinal surgery
Founded based on intellectual property developed in the robotics lab of the University of Montpellier, AcuSurgical is a fast-growth start-up that aims to revolutionize retinal microsurgery. The company is developing an innovative robotics solution that will allow surgeons to perform delicate procedures with extreme precision and support the best possible patient outcomes.
Laetitia Gervais, Director QA/RA at AcuSurgical, explains: "There are two parts to our solution: robotic arms that can manipulate various surgical instruments, and a software control system for a telemanipulation piloting station that interprets the surgeon's control inputs and translates them into smooth movements. The ability to perform surgical interventions with micron-level accuracy will be a tremendous leap for the field, and we're currently working towards certification for our device."

Aiming higher
To accelerate the product development and certification process, AcuSurgical targeted an efficient approach to application lifecycle management (ALM) and quality management (QM).
"Soon after the company was founded, our CEO determined that a digital solution was the optimal way to manage compliance and quality throughout the development lifecycle," says Laetitia Gervais.
"For ALM, we looked for a solution that would integrate with our mission-critical Confluence and Jira platforms, and the ability to create compliant documentation for our regulator in Europe. And for the QMS, we looked for a fast and effective way to implement the ISO 13485 standard and continuously update our quality documents as required."
Deploying an integrated solution
After evaluating solutions from several leading vendors, AcuSurgical selected Matrix Requirements to deliver the new capabilities. With MatrixALM, the company can track and trace the relationships between all design objects—including requirements, specifications, risks and tests—from a single point of control.
Combined with MatrixQMS, the Matrix Requirements solution empowers AcuSurgical to create, review, and publish procedures and work instructions for developers and engineers, helping to ensure compliance throughout the product development lifecycle.
"Matrix Requirements offers flexible, agile solutions that are a perfect fit for a start-up like AcuSurgical," comments Laetitia Gervais. "From the moment we started exploring MatrixALM and MatrixQMS, it was clear that the solutions are designed by experts in the medical device field—the interface is extremely intuitive, which means technical and non-technical users alike can get started quickly."
Laetitia Gervais ontinues: "We also greatly appreciate that the two solutions are based on the same user experience principles. If you know how to use one solution, it's really quick to pick up the other, which reduces our training requirements significantly."
Enabling end-to-end control
With support from Matrix Requirements, AcuSurgical has integrated MatrixALM and MatrixQMS into its core business processes. The company uses templates in MatrixQMS to set out proper ways of working on a range of activities, including product development as well as order management and supplier management. Using MatrixALM, the company manages design objects—such as software components developed by its in-house engineers and technical drawings prepared internally and by third-party hardware experts—with full traceability of dependencies and changes.
"We use Confluence to prepare our initial concepts and designs, then use MatrixALM to establish the necessary requirements and specifications," explains Laetitia Gervais. "If an issue arises—for example, a piece of software failing a test case—we use integration between MatrixALM and Jira to track the defect. The ability to keep MatrixALM and Jira updated automatically brings big efficiency benefits, and our test manager greatly appreciates the ability to use built-in reporting in the Matrix Requirements solution to track the status of test cases."
Demonstrating compliance automatically
When AcuSurgical needs to demonstrate compliance with ISO 13485 or its internal business controls, the company uses templates in MatrixQMS to generate the required documentation automatically, including up-to-date information on technical specifications, test results and risks from MatrixALM.
"One great thing about the Matrix Requirements solutions is that you don't need to be a technical expert to get value from them," says Laetitia Gervais. "With online training documentation and videos and a little support from Matrix Requirements experts, I successfully deployed and configured MatrixALM and MatrixQMS myself. I also created all our standard operating procedures and work instructions in MatrixQMS, which inform colleagues how to update MatrixALM to reflect compliance with our procedures."
Working faster with digital processes
As AcuSurgical moves closer towards its device certification goal, the company is now creating and updating quality documents on a weekly basis.
Thanks to digital review and approval workflows and electronic signatures in the Matrix Requirements platform, the company can drive the process efficiently and avoid delays. "We are targeting certification within a matter of months, so having all our compliance documentation in an easily accessible digital format is a big time-saver," comments Laetitia Gervais.
"With MatrixALM and MatrixQMS, there's no need to scan paper documents, collate emails or have employees come on site to sign things off—everything we need is available in the solution."
Generating documentation automatically is also a big advantage. Because the Matrix Requirements solution acts as a single source of truth for all compliance data, the company significantly reduces the risk of human error entering its documentation. In turn, this reduces the risk of delays to the certification process. 
Maintaining continuous compliance
AcuSurgical is leveraging MatrixQMS to boost operational efficiency further still, using interactive tests to verify that employees understand newly published information.
"Compliance with ISO 13485 requires us to evaluate the competence of employees who do work that impacts product quality and provide appropriate education and training," explains Laetitia Gervais. "When we release a new set of procedures, employees answer some multiple-choice comprehension questions, and we get the results automatically. This makes it very easy to identify where training is needed."
Laetitia Gervais adds: "Combined, the improvements we're driving in all these areas—including publishing new quality documents, running reviews and approvals, and assessing training requirements—make us around 50% more efficient on average."
Bringing certification within reach
Equipped with agile, streamlined quality and requirements management workflows, AcuSurgical is preparing to bring the benefits of robotically assisted surgery to patients across Europe.
"We're extremely pleased with the impact that the Matrix Requirements solutions are having on our operations," concludes Laetitia Gervais. "Thanks to MatrixALM andMatrixQMS, we're on track to achieve our certification goal later this year—bringing us a step closer to transforming retinal surgery."
Thanks to MatrixALM and MatrixQMS, we're on track to achieve our certification goal later this year—bringing us a step closer to transforming retinal surgery."
Laetitia Gervais, Director QA/RA, AcuSurgical
Sign up to our newsletter
Keep up with the latest Medical Device & SxMD insights from Matrix Requirements.